Around 50% of students worldwide work and study concurrently. Many choose part-time jobs to fund their education, pay tuition fees and sustain themselves in a distant land. Working during university helps in the acquisition of new skills. But often, juggling work and study can be tricky.
If you can manage academics and jobs carefully, you'll realize that it's possible to study, work, and find time to have fun with your friends.
In this post, you'll find the challenges of such students, along with tips on balancing work and study.
Challenges of College Students Studying and Working Part Time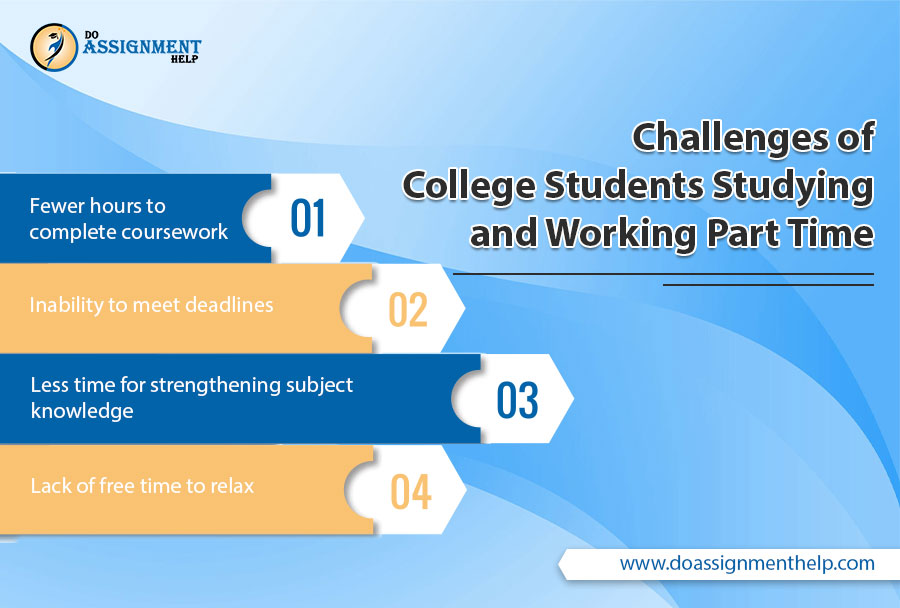 There are several challenges you may face. Here are the major ones that everyone working student deals with.
1. Fewer hours to complete coursework
One of the most prominent challenges students face is having lesser time to focus on their coursework. Their job consumes half of their day, which restricts their hours of study. They also cannot devote as much time to research as a full-time college student. Naturally, preparing lengthy coursework such as a thesis or long-term papers becomes challenging. It's one of the major reasons students look for expert assignment help.
2. Inability to meet deadlines 
Closely related to the above challenge is the inability of working students to meet deadlines. It's common to find them hurrying at the last minute to finish coursework. It often makes their essay or paper highly prone to errors. Such students require expert assistance so they can understand the demands of their coursework and submit it right on time.
3. Less time for strengthening subject knowledge
Working students need to follow a long to-do list every day. It includes going to the workplace, attending college, attending extracurricular activities, completing coursework, etc. These activities reduce the time for learning new concepts and strengthening the foundation of the discipline.
Not only that, but working students don't get enough time to have one-on-one interactions with their teachers and faculty members. They often struggle to understand concepts and enhance their subject knowledge.
4. Lack of free time to relax
A job significantly cuts the free time of learners. With a packed schedule, it is hard to find spare time to relax and spend with your loved ones. This time shortage affects the social life of students. Many students are always in a stressed state of mind as they need to complete numerous things before the day ends. It, in turn, makes them feel isolated and prevents them from building new friendships.
How to Manage the Challenges of Studies and Part-Time Job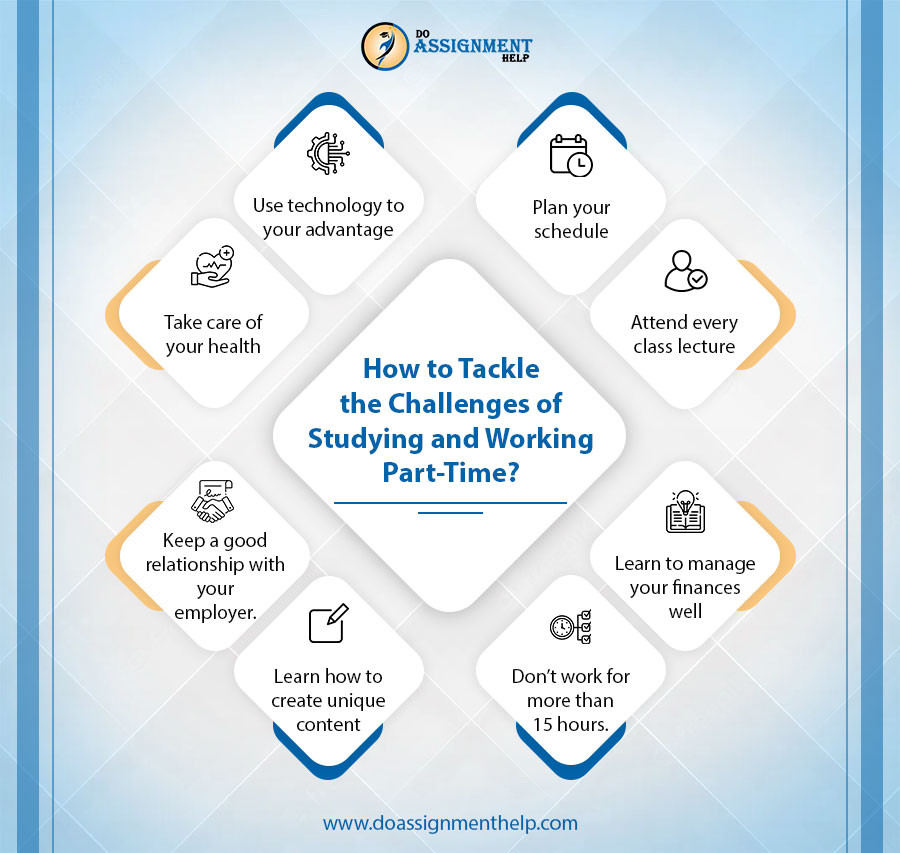 Don't feel stressed if you struggle to manage your studies with an internship or a job. Use these handy tips and stop feeling overwhelmed.
1. Plan your schedule
Undoubtedly, coursework requires your full attention and dedication. As a working student, you know that you've got fewer hours for researching and writing. So, you cannot leave your tasks for the last minute.
So, the best way to tackle this problem is to plan your days in advance. Make a to-do list of the most critical tasks and distribute your time suitably. Track how much you've completed and what's remaining. It will help you to manage your time and activities better.
2. Attend every class lecture
As a working student, you need much guidance to understand concepts and write coursework correctly. If you miss lectures, it won't be long before you start lagging in your studies. Take notes during the classes and use them while preparing essays.
Sometimes, class lectures aren't enough to fully clear your problems. You only get a limited time with your teacher. In such a case, you can seek professional academic assistance to clarify doubts and improve conceptual knowledge. 
3. Learn to manage your finances well
Financial constraints make many students unable to give their best shot at the university. So, it would help if you learned to manage your finances well. When you do that, you'll experience a lesser financial burden. It will also allow you to take away all the tensions related to expenses from your mind. You can then study with a fresh mind. Thus, you will be able to focus better on your coursework.
4. Don't work for more than 15 hours.
To balance university life with work, you must devote adequate time to studying and working. Dedicating more time to work while pursuing higher studies is not advisable. After all, the main reason you entered a university was to get a degree. Set clear boundaries between your work and studies. Don't prioritize work over your learning.  
5. Learn how to create unique content
Due to a shortage of time, working students often submit coursework with heavy plagiarism. Reduced time to research is one of the major causes for writing supplicate content. But you must understand how to frame your views and write unique content. You can seek expert assignment help online to learn ways to gather information from credible sources and formulate your individual perspective.
6. Keep a good relationship with your employer.
As a working student, you have various commitments. It is essential to communicate about them openly to your employer or manager. University life is demanding. So, inform your employer about your availability and mention any concerns about the role.
The better your relationship is with your superiors, the easier your life will become. Never overextend yourself to impress your seniors. It will only interfere with the schedule you've set for your studies.
7. Take care of your health.
Working and studying simultaneously can be exhausting. If you don't take care of your health, you will spiral downward in academics and work. So get enough sleep and eat a nutritious diet. It'll help to keep your energy levels high. You will also not fall prey to any illness. Boost your mental health by taking out time for yourself. Don't stress too much, and take breaks if you feel too overburdened. You can also seek academic assistance to understand specific topics better and tackle questions on them well.
8. Use technology to your advantage. 
Today you can find various free tutorials on the internet. Watch these tutorials to understand different concepts when you feel too lazy to open your textbook and study. Sometimes, you can learn concepts better while watching them instead of merely reading from a book. So, subscribe to various educational channels on YouTube related to your domain and enhance your subject knowledge.
Manage College with Work Successfully!
Implementing the advice in this article will enable you to strike the perfect balance between your work and education. Thus, you can amass critical skills that will help you improve your academic scores and improve your performance at your job. You can also take expert help for your coursework if you feel too overwhelmed at certain times.
Related Blog:
The Best Synthesis Essay Topics for University Students
Top Evaluation Essay Topics for Every Student