Commemorative speeches are delivered at the celebration of some special occurrences and events to pay respect or tribute to a person, idea, institution, place, etc. They are also popularly known as ceremonial speeches. Students, and people in general, are quite nervous when it comes to expressing their ideas and thoughts on a particular subject. However, one of the biggest challenges is selecting the right topic. Hence, here we are with some exciting tips to make topic selection easier for you. Further, we will also be sharing a complete list of interesting commemorative speech topics. So, stick till the end!
"If your actions inspire others to dream more, learn more, do more and become more, you are a leader."

– John Quincy Adams
Related Blog: Nursing Research Topics
What Makes A Good Oral Presentation? Vital Elements of a Powerful Commemorative Speech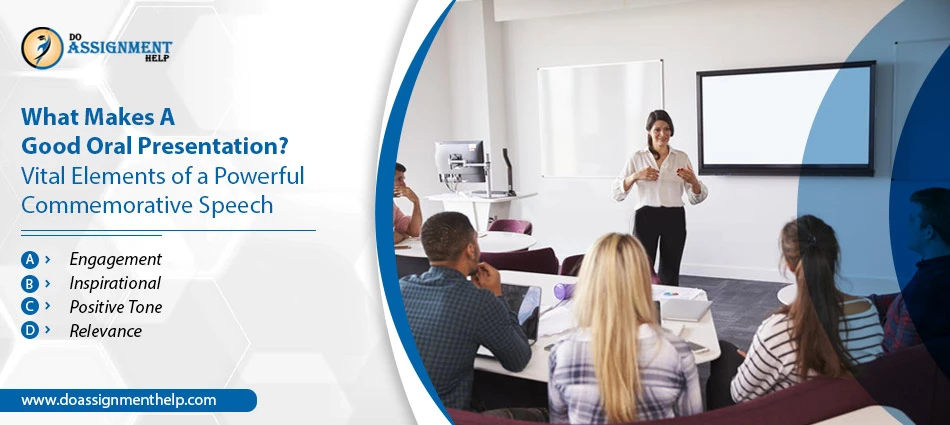 Since ceremonial speeches are given at some crucial events, they need to be powerful enough to grab and hold the audience's attention. If you are preparing to work on special occasion speech topics, be careful about including a few elements for a successful result. Let's discuss some of the essential elements that make an impressive commemorative speech.
Engagement: Your speech has to be engaging and enticing to intrigue the audience. It's best to include an emotive touch, controversial elements, or something that intrigues the listeners.
Inspirational: You must focus on keeping the speech inspiring. Thus, always remember to maintain a light tone throughout while also paying gratitude and emphasizing the value of your subject. After all, commemorative speeches are meant to inspire listeners.
Positive Tone: Try to include a positive and empowering outlook in your speech. However, at the same time, avoid being overenthusiastic in your delivery. Keep it natural, optimistic, and, as we said, inspiring.
Relevance: A ceremonial speech must include some wonderful memories that resonate with the audience. You should focus on keeping it specific instead of something general. If you are taking assignment help, do remember to share the instances with the hired experts for valuable output.
Must Read: 90+ Engaging Speech and Debate Topics for kids
"What we say is important… for in most cases the mouth speaks what the heart is full of."

– Jim Beggs
Elements to Consider During Commemorative Speech Topic Selection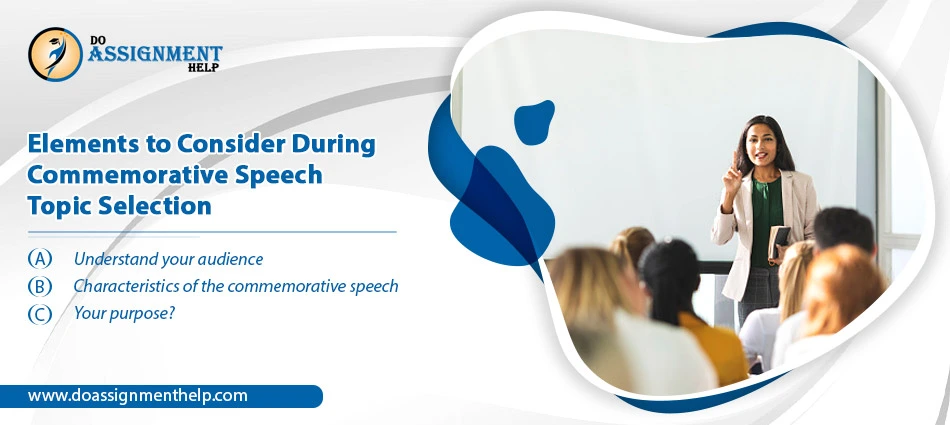 Are you feeling confused about different commemorative speech ideas? You need to keep a few aspects into account while considering a topic for yourself. Let's discuss what these are:
Understand your audience: It's crucial to understand your audience. Why the listeners are there and what are their expectations from the speech?
Characteristics of the commemorative speech: What are the best features of your commemorative speech?
What's your purpose?: Assess the primary goal of the event and choose a topic accordingly.
Also Read: Informative Speech Topics
Tips To Choose the Best Commemorative Speech Topics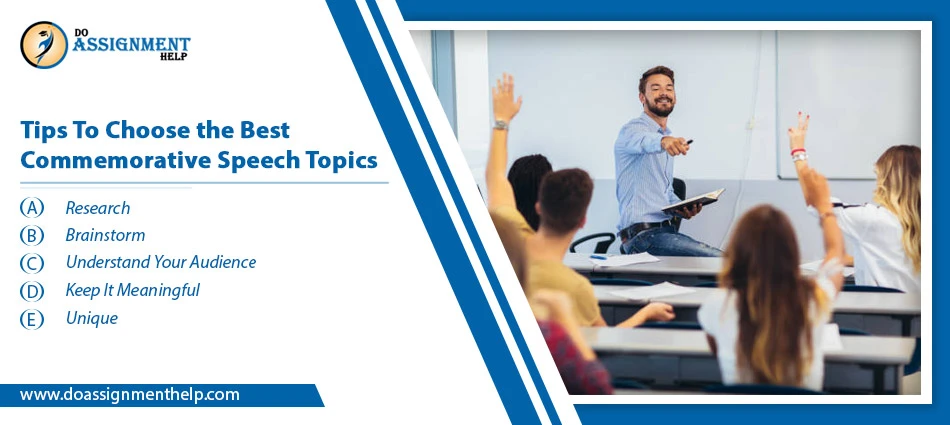 It is natural to feel confused while choosing the right topic for your commemorative speech. Here are some of the tips for you:
Research: It is best to look online for some potential topics and research online. Further, you can scan through old videos of your college events for some exciting ideas.
Brainstorm: Ideate and think about what to present to the audience. This is a great exercise to create a unique, meaningful, and exciting topic.
Understand Your Audience: Never forget to keep your topic relevant to the audience. Focusing on the audience enables you to come up with an exciting topic that matches their mindset.
Keep It Meaningful: You should make sure that the topic is meaningful, relevant, and delivers a powerful message.
Unique: Although it is obvious, we feel it is important to specify that your topic should be original. Do not copy other speakers. You can hire assignment help specialists for that matter.
How Do You Identify A Quality Commemorative Speech?
Some of the essential features of a top-notch quality commemorative speech are:
Popular Categories for Commemorative Speech Delivery
A commemorative speech can be produced in a number of categories. You can easily find several commemorative speech examples on the internet and other relevant resources. Some of the popular categories are:
Best Commemorative Speech Topics for Students in 2023: Multiple Categories
Commemorative Speech Ideas on People
Commemorative Speech Topics for College Students
Funny Commemorative Speech Topics
Good Commemorative Speech Topics
Hot Topics for Commemorative Speech
Commemorative Speech Ideas on Human Qualities
Easy Commemorative Speech Topics
Commemorative Speech Topics on Personal Achievements
Commemorative Speech Topics about Loved Ones
Wrapping Up
A commemorative speech offers plenty of room to utilize your imagination to its most. You are not restricted to our list of commemorative speech topics. There is always room to open the doors of your creativity. The prime goal should be delivering an effective message to the audience that invokes their senses. Further, make sure that the topic is relevant to your purpose and the taste of your listeners. You can also hire an expert to write an effective commemorative speech and entice your audience. We hope you found our guide helpful!
Our Other Related Blogs: