Is your mind penetrated with a concern "how many pages is 2000 words?" The answer to the question "how many pages is 2000 words" is 4 pages single spaced and 8 pages double spaced. Well, when you work on your assignments or academic work, you have to focus on word calculation. How many pages you can cover at what word length may make you reluctant for your academic work. Therefore, you need to know everything before working on your academic papers.
"It does not do to leave a live dragon out of your calculations, if you live near him."

J. R. R. Tolkien
Generally, you can write as many words on a page without following any specific guidelines. But, under some factors, you can cover only limited words on a page. Whether you are working on Microsoft Word or Google Docs, a few factors are always there that decide your page calculation. Imperative factors that impact the counting of pages are:
Font Size
Spacing
Paragraphs
Why Does My Pages Calculation differ in MS Word?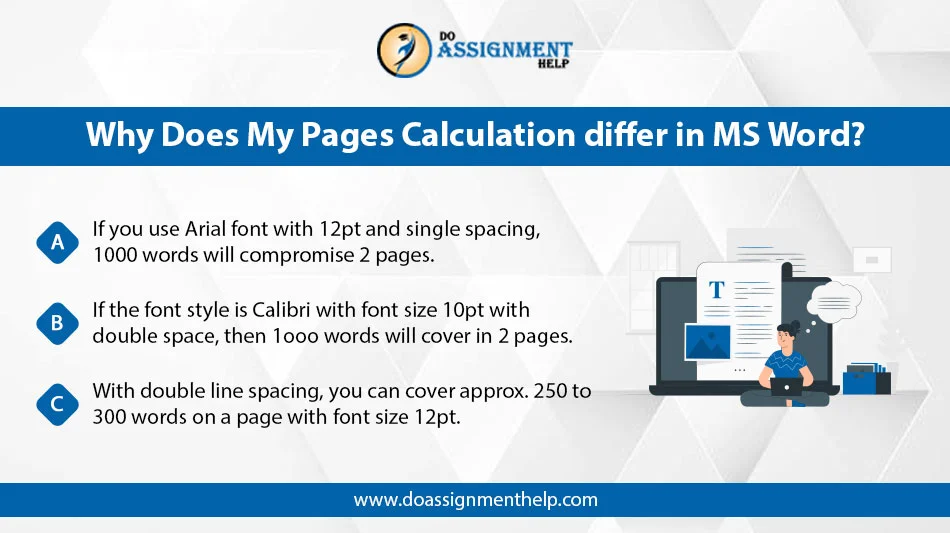 When you are searching for how many pages is 2000 words, definitely, you may feel perplexed about the counting of pages. And, this doubt generates another concern "why my page's calculation differs in MS word." For that, let's consider the following examples:
If you use Arial font with 12pt and single spacing, 1000 words will compromise 2 pages.
If the font style is Calibri with font size 10pt with double space, then 1ooo words will cover in 2 pages.
With double line spacing, you can cover approx. 250 to 300 words on a page with font size 12pt.
Here, you need to understand that word count and page number share a relationship that depends on other factors as well. If you are looking for how many pages is 1000 words or how many pages is 500 words, then check your MS Word settings. Ask yourself whether you require single or double spacing or how many paragraphs you can add to a page before concluding. Furthermore, you can approach professionals' help via assignment help and share your doubts.
The setting of Margin & Spacing in Microsoft Word
Wondering about the space or margins in MS word can generate unnecessary questions in your mind. Therefore, set spacing in MS Word or Google Docs to get the desired outcomes. Well, it is an easy task to adjust the spacing in Microsoft Word.
Margin Setting: 
When you have to keep a specific margin for your document, your word count will vary. For margin setting:
Click on the Layout tab. You will find different options under the same tab.
Go to the tab Margin and select the desired setting (Narrow, Normal, Wide, or Moderate).
Spacing Setting: 
Line spacing affects your paragraph designs. So, make sure to focus on your line spacing while working on your academic tasks. For line spacing:
Go to the Home tab and click three dots at the right corner of MS word.
Under the Paragraph tab, you will have an option of Line Spacing.
For a more precise setting, click to Line Spacing Options. A different dialogue box will open.
Now, you can choose single, double, or multiple line spacing.
Must Read: How Many Pages in 1000 Words? Word Calculation Guide
Words Calculation: Single Spaced, Double Spaced
Puzzling yourself with affluent questions regarding the number of pages for several words can affect your work quality. Still, juggling with How many pages is 2000 words or how many pages is 1200 words double spaced? For more precise information, check the following table to know the number of pages for a particular word limit.
| | | |
| --- | --- | --- |
|  The Number of Words | Number of Pages with single spaced | Number of Pages with double spaced |
|  500 |  1 |  2 |
|  1000 |  2 |  4 |
|  1500 |  3 |  6 |
|  2000 |  4 |  8 |
|  2500 |  5 |  10 |
|  7000 |  14 |  28 |
|  10,000 |  20 |  40 |
|  20,000 |  40 |  80 |
|  25,000 |  50 |  100 |
|  40,000 |  80 |  160 |
More Queries Related to the Number of Pages: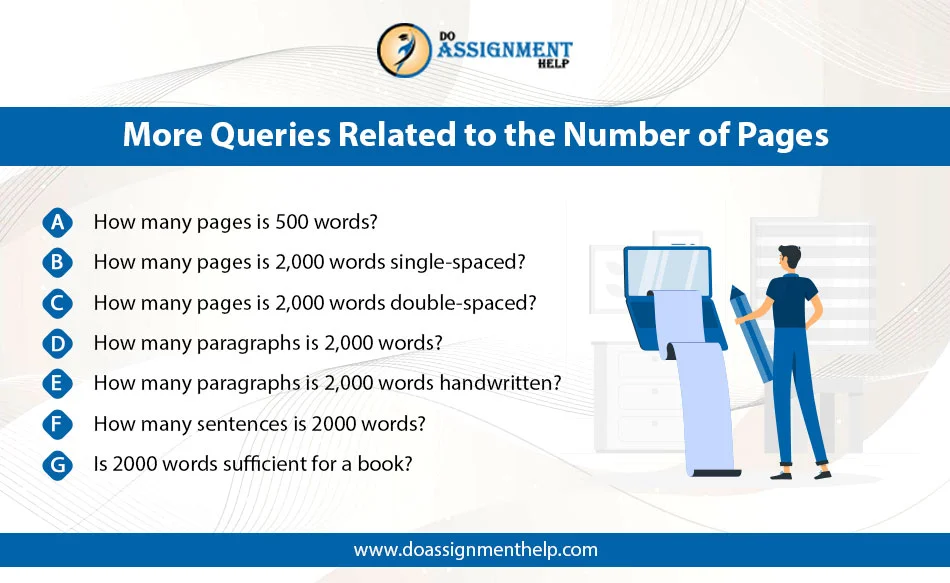 How many pages is 500 words?
500 words approximately take 1.8 pages if you use a 12pt Arial font with double spaced.
How many pages is 2,000 words single-spaced?
It takes 4 pages to cover 2,000 words single-spaced. There are approx. 45o to 500 words on one page if you use single spacing.
How many pages is 2,000 words double-spaced?
8 pages is covered with 2,000 words double-spaced. Double spacing makes writing easy to read and interpret.
How many paragraphs is 2,000 words?
There are about 10 to 20 paragraphs written in a 2000 words essay. If you choose to write short paragraphs, you can divide your 2000 words essay into 20 to 40 paragraphs.
How many paragraphs is 2,000 words handwritten?
With single-spaced, 2000 words take approx. 8 pages in handwritten. Moreover, the counting of pages also depends on your writing style. Some students use short fonts and use less space while writing their papers. So, the number of pages varies according to writing style.
How many sentences is 2000 words?
Generally, 2000 words take 100 to 130 sentences if you use 15 to 20 words in a sentence. However, it also depends on the words you use while constructing your sentences.
Is 2000 words sufficient for a book?
No, 2000 words are not sufficient for writing a book. If it is about flash fiction, you can cover it in under 1000 words. Generally, short stories take 1,000 to 8,000 words whereas novella takes more than 10,000 words.
Also Read: Complete List of Linking Words
Assignment Help: Professional Assistance for "How Many Pages is 2000 Words"
Writing could become a daunting task if you do not have the right ideas and do not know how to project your thoughts correctly. If you know about the number of pages, it becomes easy to finish your academic work effectively. So, make sure to read the write-up carefully.
In case, if you need professional assistance in writing your academic papers, then you can opt for assignment help. Your concern "2000 words is how many pages" or "how many pages is 2000 words" could be redirected in the right direction under the guidance of experienced writers. So, use our essay help and uncover the significance of word count. For more information, leave a comment and ask your concern.
Also Read: Avoid Taboo Words in Academic Writing